Wednesday | 22nd MAY | LWCircus- ArnoLab019 Official OPENING
5.00 -7.30 pm
Annacaterina PIRAS e Chiara de' ROSSI | LWC-IT | Florence   "LWCircus – Operative Shared Program - Design Method Based on Social Practices"
Introduzione della cofondatrice e coordinatrice scientifica di LW-Circus Annacaterina Piras e Chiara Dè Rossi In the year 2016, in direct response to the clear need for more shared urban practices of ephemeral expression, we established the LandWorks Circus International Program (www.lwcircus.org), a program with a main research intention to engage with the project of the city while also aiming to push the boundaries of Landscape Architecture into the realms of cultural landscapes in both urban and rural contexts. Based on a narrative of a sort of renaissance within the urban landscape, LWCircus' research centers around the engagement programs of the ArnoLabs Shared Creative Workshops. In particular, we looked at experimentation through artistic and multimedia languages, which through the medium of art in the landscape, can give back meaning to places and reconstruct ways of living in and enhancing the landscape, something that emerges typically when communities actively contributed to the construction of their cities. The first two editions of the Shared-Operative Workshops called LWCircus-ArnoLabs have been held in Florence, from 21st till 30th of September 2017 and from 23rd May till 3rd June 2018, creating ephemeral installations such as light urban furniture, staging points and temporary shelters. These all realized on site by the revisitation and assembling of recycled natural material transported by the changing Arno River's moods. For both the editions, groups of selected young refugees, coming form Niger, Senegal, Mali (ArnoLab017), Burkina Faso, Ghana, Gambia and Bangladesh (ArnoLab018), survived crossing of Mediterranean, coming from Libya and temporary hosted in the Florentine context, were invited to join the rest of international creative group (coming from Mexico, China, USA, Australia, Lebanon and Syria, Colombia, Venezuela UK, Holland, France, and Italy). Everyone worked extremely enthusiastically designing and realizing the series of installations, sharing wishes and hopes with the rest of international participants and the locals, becoming temporarily part of the local community and starting a process of social inclusion that gave life to successive opportunities for further inclusion in local realities. The locals, sharing the process in conceiving and realizing the works, started by look at the others in a different way, transmuting the concept of 'others' into a feeling of 'us'. The outcome resulted in a re-appropriation of the traditional way of living along the Riverbanks, through a plausible common space, where, through interaction, different members of the community, took ownership of the management of the reconquered public space without any kind of discrimination, rediscovering the mutable open space as medium of cohesion between the Community and the involved minorities.
Annacaterina Piras is architect and cartographer and has a PhD in Landscape Architecture gained at the Alghero School of Architecture, University of Sassari (2011). She obtained the first degree in Architecture at the Florence School of Architecture (1999). Since 2004 she has coordinated several international operative workshops, experimenting shared practices in urban interventions trough the art medium as a vehicle for the redevelopment of open spaces, with the collaboration of local artists, communities and cultural foundations, as Museo Nivola, Orani (2004) and Fondazione Stazione dell'arte, Ulassai (2006). During last years she collaborated with different Universities, Foundations and Cultural Institutions, such as the Cornell University in Rome (2009), the Master in Landscape Architecture of Barcelona at ETSAB_UPC (2010), the Bauhaus Dessau Foundation (2011), the RMIT University, School of Architecture and Design, Melbourne (2013-19), the ENSP, Ecole nationale supérieure du Paysage, Versailles (2013-14-15-16), the Universidad Marista, Merida (2016), the Chinese Universities of SCUA, SCUT, GAFA in Guangzhou and PKU, Beijing (2017), the UHM, University of Hawaii at Manoa (2017), Tonji and Jiao Tong University in Shanghai (2018), TURENSCAPE Academy (from 2018). From 2009, She coordinated several workshops for the II Level Master in Mediterranean Landscape Urbanism, at the Alghero School of Architecture, University of Sassari, where she worked as Academic Coordinator for the second edition of the Master MMLU (2014-2015). She has been Co-Founder and scientific coordinator for the first six editions (2011-2016) of LandWorks-Sardinia. She is Co-Founder and Scientific Coordinator of LWCircus, the Italian – Mexican Operative Shared Program born in the 2016 and focused on experimental modalities in searching new strategies for sustainable urban and rural development on sensitive natural areas and the revitalization of cultural landscapes inside Mediterranean and the developing Countries. She has been juror at the World Landscape Architecture Award 2019 and has been nominated for the American Academy in Rome Italian Fellowships 2019-2020.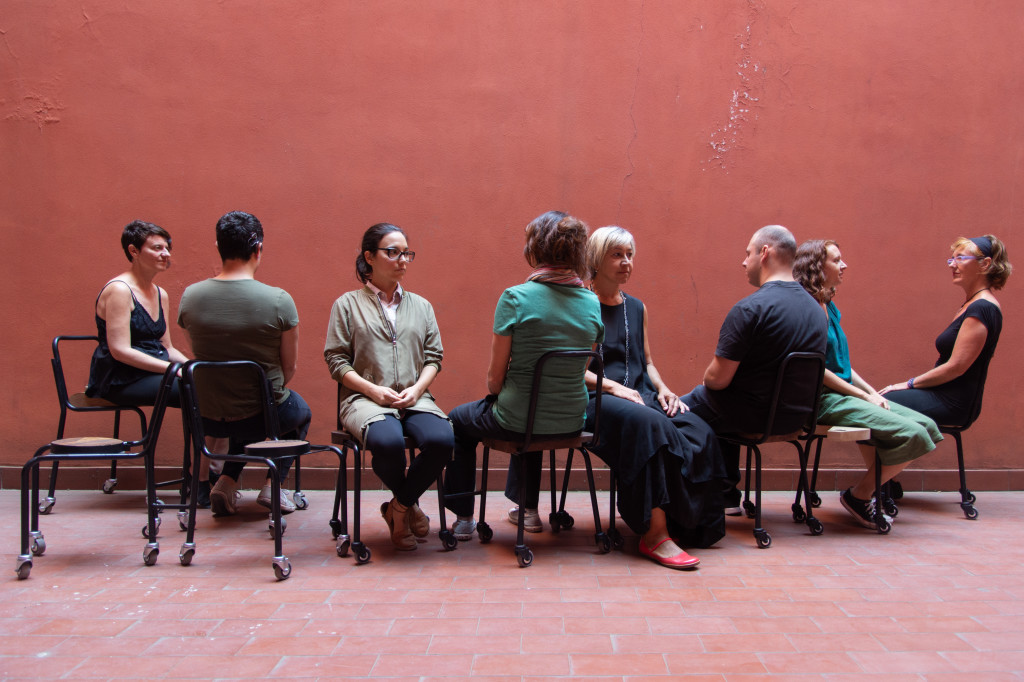 Elisabetta BIANCHESSI | t12-lab + Verdiacque | Milan "T12-LAB, a resilient community.  Social design and public space projects"
L'esperienza del T12-LAB di Milano, che si occupa, tra l'altro, di installazioni site-specific e pezzi unici di design, sempre con un occhio di riguardo al riutilizzo di materiali riciclati. T12 – lab is a cultural and research agency, born in Via dei Transiti 12, in the most multicultural neighbourhood of the peripheral city, in Milan. T12 – lab is involved in social and public space design, producing site specific installations, unique pieces on demand, or small series; re-cycling, as a strategy and as a technique, is key in its modus operandi, since we use trimmings of first quality materials and scraps from factories as new materials to generate our products. We receive them as donations from leading producers in order to re-use those materials involving deaf workers otherwise excluded from the labour market, providing them with high quality product design hands-on experience and training, in collaboration with universities, research agencies, product design professionals and architectural design school teachers and students. T12 – lab's mission is to generate social inclusion, in a multicultural environment, through design projects and urban regeneration actions.  
Elisabetta Bianchessi is a licensed architect trained at Faculdade de Arquitectura Lisboa – Escuela Tecnica Superior de Arquitectura de Madrid – Politecnico di Milano (with honneurs) She was awarded with a PhD in Landscape Design at Escola Tecnica Superior d'Arquitectura de Barcelona – Escuela Tecnica Superior de Arquitectura de Madrid (with honneurs) She has been teaching Landscape Design at Politecnico di Milano and Accademia Belle Arti Brescia (2003-2013), and She is Ideator and Founder of the Paesaggi Straordinari – Master in Landscape Design and Public Art, at Politecnico di Milano and NABA Nuova Accademia Belle Arti Milano (2007-2013). Since 2013, She is Scientific Director of Summer School – Bergamo Landscape and Garden Institute and Visiting Professor at the Master in World Natural Heritage Management Unesco – STEP scuola del paesaggio e del territorio Trento. In 2008 she ideated and founded T12-Lab Action-Research Agency for Social Design and Public Space. Ideator and President of Verdi Acque (since 2013), no profit association which mission is sustaining the living conditions of river habitats and their communities. She also serves as Honorary Fellow of Liveinslums ngo (since 2011), being scientific director of operations in their projects about sustainable agricultural habitats in urban megalopolis. She collaborates with the Landscape Study Center – Verbania Landscape Museum.